What Can Ease the Conflict in the Congo?
Fourteen years ago, during the height of the Second Congo War, rebels stormed Jacob's classroom in the town of Lubumbashi, in the eastern region of the Democratic Republic of Congo (DRC). They forced the 13-year-old and six of his classmates to join their army. "They were walking around killing people," he says. "I saw some of my friends killed right in front of me. My mother and father were at home – that is how I was left behind."
As war broke out across the city, Jacob's parents fled. His mother and father were separated. Jacob was taken to a rebel camp where soldiers tried to force the boys to fight. Remarkably, a UN envoy arrived to rescue them several days later, and Jacob was placed in an orphanage. Left alone in one of the most violent, unstable countries in the world, his survival depended on little more than luck. "I didn't know where to go," he says. "You are moving town to town every day. You are here today, tomorrow you are in a different place."
The war, which raged for a decade, officially ended in 2003. But despite a number of formal peace agreements, the DRC is still gripped by violence, and armed groups continue to recruit child soldiers. Over the last two decades, approximately 5.4 million have died as a result of the war and ongoing violence, and over three million have been displaced or fled the country. During a particularly violent period in 2007, an estimated 48 women were raped every hour; recent statistics suggest rape is still being used as a weapon against thousands each year. Even during lulls in active fighting, there are dozens of rival militias – from rag-tag fighters to full-fledged armies. Civilians still face the potential of massacre on a daily basis, and there is little justice or rule of law.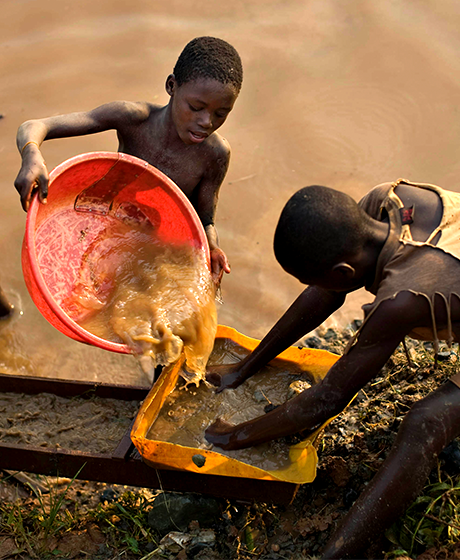 Yet, in natural resources, the DRC is one of the richest countries in the world. The mines, located primarily in the eastern DRC, supply gold, tantalum, tungsten and tin – metals used in nearly every consumer electronic product from cell phones to laptops as well as many other products such as jewelry and cars. The mining industry generates an estimated $1 billion a year, according to the DRC's national chamber of commerce. But labor conditions are fraught and rebel groups and corrupt factions of the Congolese army have exploited the lucrative mineral trade to reap the profits for themselves. "We think it is incredibly important that a lot of the policy reforms focus on minerals because they are so lucrative, and money matters here," says Holly Dranginis, Senior Policy Analyst at the Enough Project, a group that has been active in pushing for mining reform. "But conflict minerals are one part of a much bigger puzzle in terms of the violence and the conflict itself."
A cycle of violence and exploitation is woven deeply into the history of the DRC. In the late–19th Century, Belgium's King Leopold seized the region as his personal fiefdom and forced locals to harvest the area's ivory and rubber under constant threat of violence. Those who resisted often had their limbs cut off. What is now the DRC remained under Belgian rule until 1960, when national riots finally convinced the European nation to pull out. The next several decades were marked by dictatorship, political instability and corruption. In the mid 1990s, following the civil war and genocide in Rwanda, groups of combatants – some former genocidaires – settled in the eastern DRC. Many of them quickly took control of the mines, stealing minerals and forcing men, women and children to work at gunpoint.
For years, profits from the mines significantly helped finance the rebel groups. In 2008, the Enough Project, an advocacy group working to support peace in the DRC, examined the supply chain of the minerals fueling the conflict and discovered armed groups were making over $185 million per year through stolen metals – a disincentive for any peace agreement. Congress passed the Dodd-Frank Wall Street Reform and Consumer Protection Act in 2010, which contains a provision – Section 1502 – that requires publicly-traded companies to disclose information about their supply chains in relation to their use of the four conflict minerals. However, Section 1502 does not require companies to actually source conflict-free minerals from the DRC. Therefore, public pressure from organizations and consumers is still a key component of convincing companies to clean up their supply chains and source from areas in the DRC where the mineral trade benefits peace, rather than war.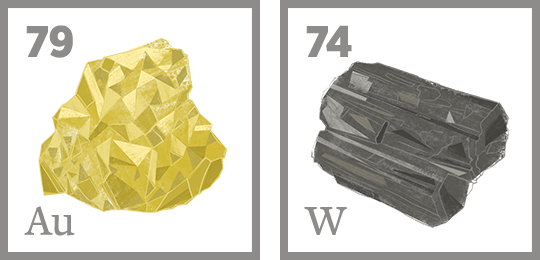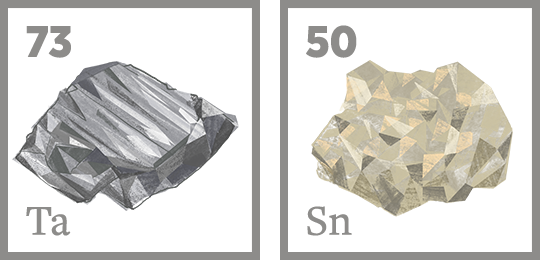 "All of these groups have been able to sustain themselves from the minerals trade," said Sasha Lezhnev, associate director of policy for the Enough Project. "If there were no minerals in the DRC they would sustain themselves from agriculture, but that is not nearly the amount of money that you can generate from gold and materials used in electronics."
In 2009, The Enough Project contacted the 25 biggest tech manufacturers in the world. One of these letters landed in the hands of Intel CEO Brian Krzanich, the company's chief operating officer at the time. "I read their letter, and I'll be completely honest, the first response I had was, 'Can't I just source it from other places?'" Krzanich says in a new documentary titled, Merci Congo. But when the company surveyed their own supply chains – asking each supplier if they had conflict-free sourcing practices, if they were able to trace the minerals back to the source, and if they could identify smelters and refiners processing the minerals – they discovered that most suppliers knew very little about where the minerals came from. "It was actually my team who came to me and said, 'The right thing to do would be to stay and figure out how to clean up the supply chain so these minerals aren't funding armed groups,'" Krzanich says in the film. "If we just exit the Congo thousands of miners would be unemployed."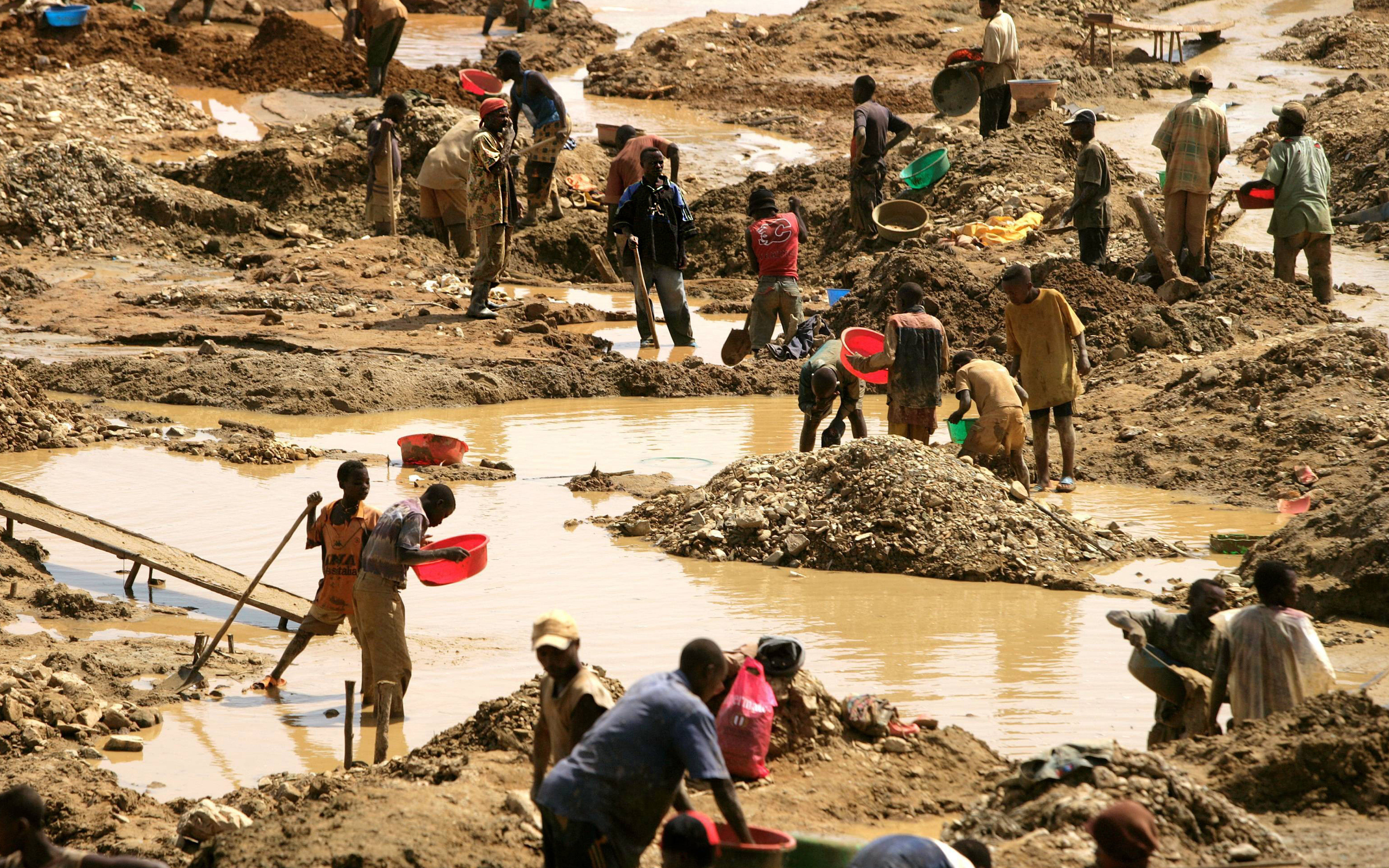 Addressing the problem, especially in a country racked with instability, would prove an immense challenge. "Once a mineral has been processed into a metal, there's no way to find out where it came from," says Carolyn Duran, Intel's director of supply chain sustainability. "Intel sources our minerals from tens of thousands of mines all over the world, so it would have been virtually impossible to visit them all." The focus turned to the smelters, where minerals are turned into metals purchased by tech companies. "There are far fewer smelters than mines," Duran says. "We figured out that we needed to work directly with the smelters to trace minerals back to their source as a method to verify that they did not directly or indirectly finance conflict in the DRC."
New tracing systems followed the minerals from the mine to the smelter to the supplier to the market. By 2013, Intel reported their microprocessors were free of conflict tin, tantalum, tungsten and gold. This year, Intel is working to validate its broader product base as conflict-free.
The long-term success of these reforms will depend on the Congolese government, which is scheduled to hold elections this year. President Joseph Kabila, who has been in power since 2003, shows no sign of stepping down. According to Congolese law, elections should be held in November, and President Kabila is not eligible to run again. But no preparations have been made for a vote, and an arrest warrant has been issued for Kabila's declared challenger, Moïse Katumbi. Many observers worry that such uncertainty will reignite conflict.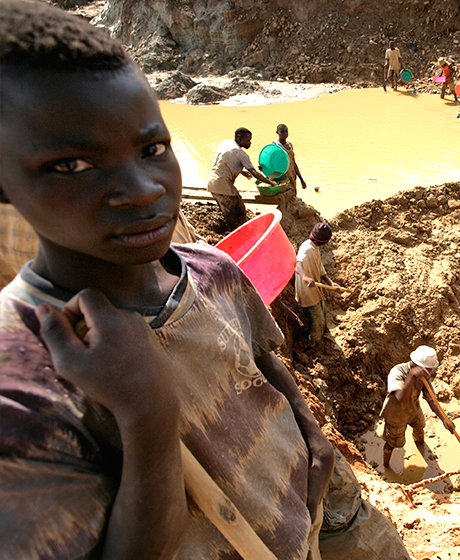 "The biggest challenge is people are not free," Jacob says. "They are not free to speak their mind. You have to agree with the people in power right now, even if they are wrong, otherwise you are in trouble."
Meanwhile, army units and rebels are still helping to smuggle minerals. The justice system isn't holding high-level traffickers accountable, and the Rwandan government is doing little to prosecute smuggling from the DRC through Rwanda. "Gold comes out of the ground in chunks that are more pure, which makes it much easier to smuggle – you can just slip a small amount in your pocket and then exchange it for money," Duran says. "Therefore, it's important to understand the origin of gold in the supply chain and conduct additional investigations as necessary to verify the minerals are responsibly sourced."
The Enough Project is beginning to investigate where the millions of dollars generated in the mines ultimately end up. "All this absolutely depends on good governance," says Holly Dranginis, senior policy analyst at the Enough Project. "But slowly, there is a transparency mechanism, and there are protocols and structures that are finally in place to distinguish conflict minerals and minerals from legitimate sources. That in and of itself is a revolution for the region."
"You have to agree with the people in power right now, even if they are wrong, otherwise you are in trouble."
Jacob was one of the lucky ones. The day the war broke out, while Jacob was at school, his father went east with his brother to Nairobi, Kenya. His mother went west, walking over 500 miles, sleeping in the forest – constantly on the move to outrun the conflict. At the time, cell phones were rare, and locating lost family members was often impossible. It took seven years for Jacob's parents to find each other. They eventually made it to the United States, and imagined the worst had befallen their teenage son.
Jacob looked for them non-stop, first when he was at the orphanage, and then with the help of church groups. Ten years later, he ran into a soccer player who used to play with his uncle. Eventually, he received contact information for his parents in the U.S. "When I called they couldn't believe it was me," Jacob says. "It was a total surprise for them. We couldn't even talk, we were just crying."
This January, two-and-a-half years after he placed his first call to the United States Jacob reunited with his mother, father and brother in Lexington Kentucky. "I was very emotional," he says. Jacob is now working as an orderly at the University of Kentucky Medical Center, and he regularly serves as a translator for the steady stream of newly arrived Congolese refugees. As unrest continues to disrupt life in the DRC, millions like Jacob are forced to find their homes elsewhere – all of them secure with the knowledge that it might have been worse. "Some people are killed, but I survived," he says. "Sometimes you don't know how you survived."