Alex Da Kid and IBM's Watson Collaborate on New Song
Content provided by Rolling Stone and IBM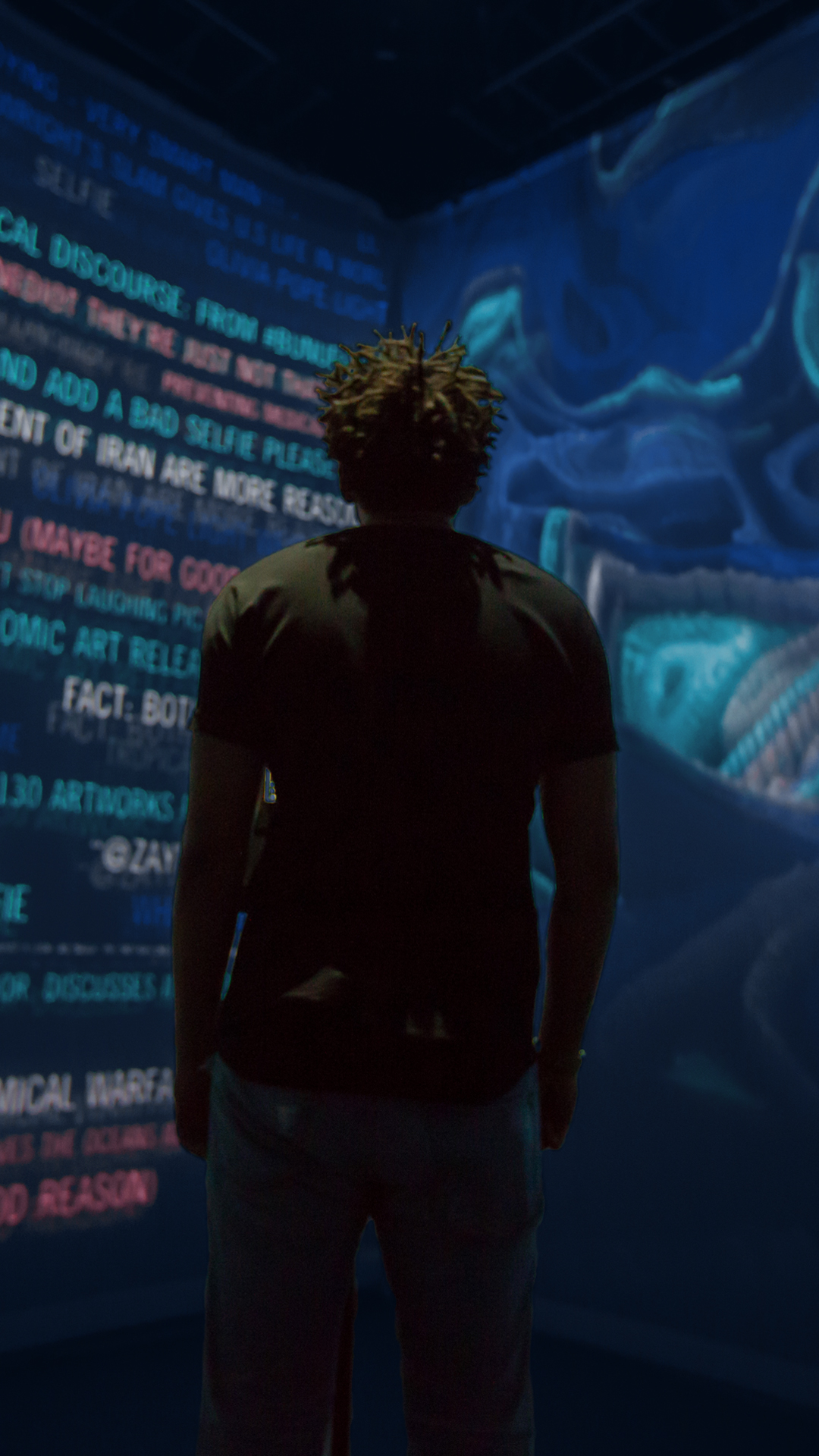 Music's New Muse
IBM's Watson is Alex Da Kid's Collaborator on New Song, "Not Easy"
One
Introduction
When it comes to making music, award-winning producer and composer Alex Da Kid is a pro. It comes as no surprise that "Not Easy," his latest song – and the first on which he is a credited artist – is masterfully complex on an emotional scale, yet relatable in the most human way. What is surprising is that Alex collaborated with IBM's Watson on the song: Watson served as an inspirational muse in a way no human could.
When you listen to "Not Easy," the first thing that hits you is emotion. Pinpointing that exact emotion proves to be a bit of a challenge – X Ambassadors' Sam Harris opens the song with the forthright refrain, repeating, "It's not easy breaking your heart." Harris croons to his acoustic guitar in a nostalgic, singer-songwriter way, and the lyrics are straightforward heartbreak. Elle King's distinct, emotive voice catches you off guard on the second verse – and Wiz Khalifa's verse adds the final layer by the third. Yet the catchiness of the tune, resolutions in melody, soulful harmonies and consistent heartbeat of the drums leave the listener hopeful – complete with a giggly comment from King after the last chord. The result is a subtle emotional roller coaster – the ups and downs and nuances of heartbreak that everyone has gone through.
With his fair share of hits and awards under his belt, Alex clearly knows how to write a song that people will relate to. But this time, he wanted to see if IBM's Watson could help inspire his creative process.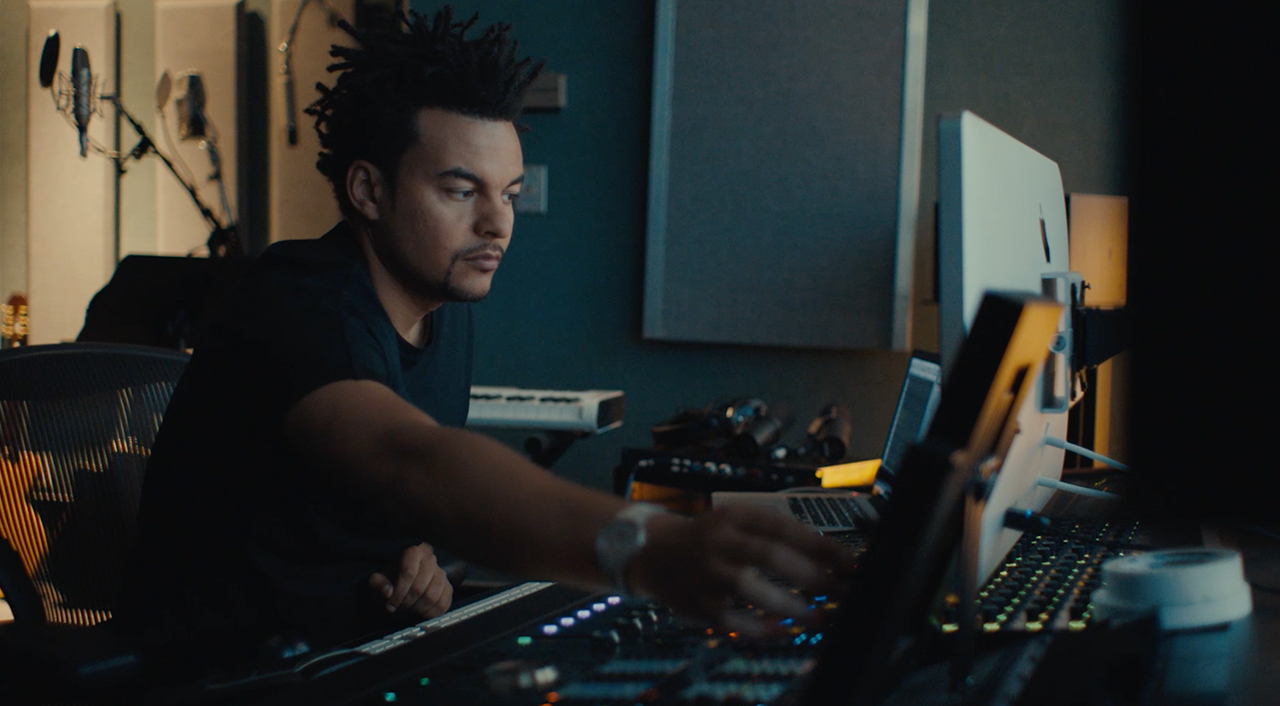 Two
Alex and Watson
What is Watson?
Watson is technology that understands data including text, images, video and audio. Watson is available as a suite of open APIs that provide insights from massive amounts of data – and illuminate those discoveries in various ways for individual people. As Watson learns incremental information, he becomes smarter: Value and knowledge increase over time. Experts refer to Watson as Artificial Specific Intelligence (versus Artificial General Intelligence) – the distinction is that IBM is focused on enhancing the way we live and work in a meaningful way.
Watson started out as a single natural language, QA API; today, he consists of more than 50 technologies. For this particular collaboration, multiple APIs – or sets of data-analyzing tools – were consulted to provide Alex with a comprehensive understanding of the most prevalent cultural and musical themes over the past five years.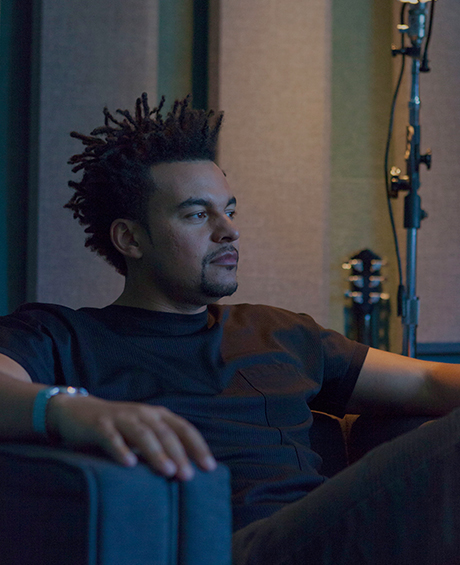 Why Alex?
A self-proclaimed "huge technology nerd," Alex was a perfect fit for Watson's first musical collaboration. His approach to the link between music and technology is notable: While many newer music genres incorporate what we think of as "technology" in an obvious way – Auto-Tune and synths, remixes and mash-ups – technology is an instrumental part of even the most basic method of music-making.
"I have no fear of technology," Alex says. "I really love it on every level."
He is passionate about the fact that technology is inherent to music – from the guitar and the pencil you use to write down ideas to Alex's "instrument" of choice, the laptop. Watson is a natural extension of that – a technological tool that can contribute to musicians' processes by providing cultural insight and creative inspiration.
"People get very sentimental around technology, especially when they're growing up or making great things with [a specific instrument or piece of equipment]," Alex continues. "I love the progression of technology. This [collaboration] is the absolute embodiment of that....This wouldn't have existed without Watson."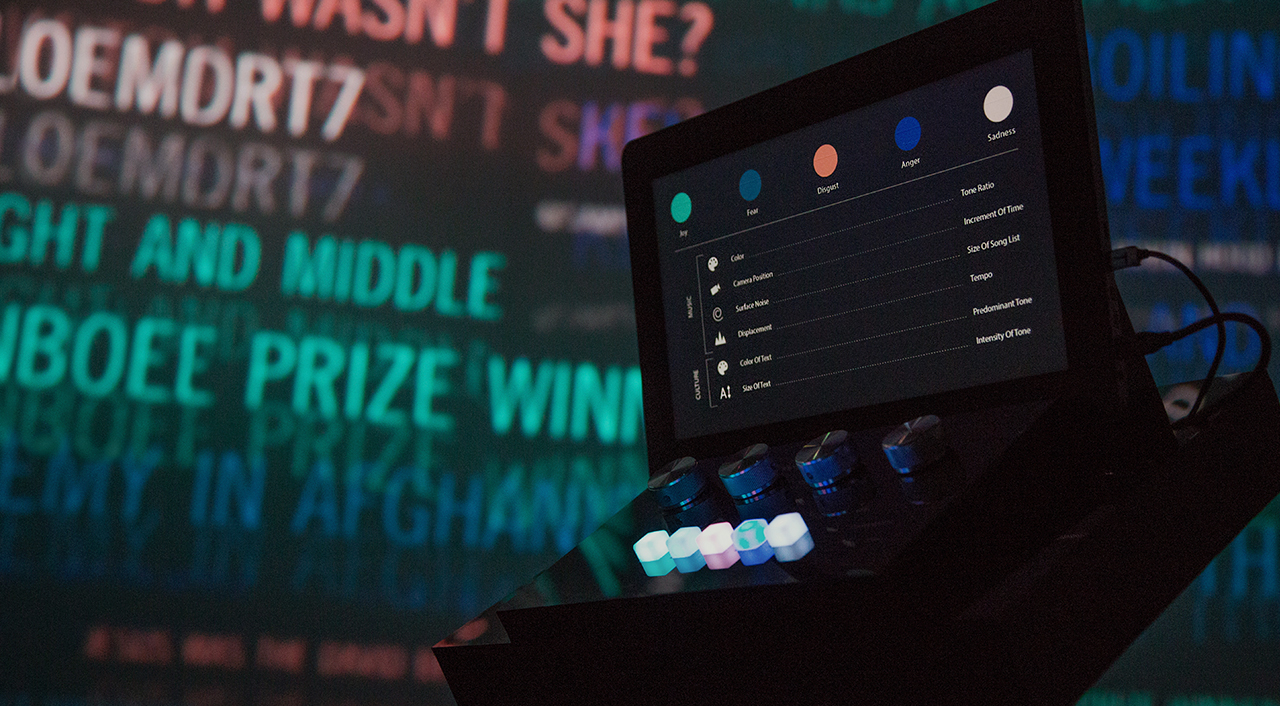 Three
The Collaboration
Once Alex committed to the project, the next step was for IBM to understand what inspires Alex to write a song. Since Watson can analyze disparate types of data in numerous ways, figuring out exactly what would be most helpful to Alex was key.
Alex wanted to know how music related to emotion, as well as what makes a song a hit. He's a people person: His songs are inspired by conversation – by understanding people's stories, what they are feeling, how their experiences alter their approach to and interpretation of the world.
Alex would never be able to talk to millions of people or read millions of books or listen to millions of songs. Watson could.
Watson analyzed five years' worth of cultural data – from news headlines and court rulings to movie synopses and Internet searches – and identified themes and trends, and people's emotions surrounding them. He also analyzed the lyrics and composition of 26,000 recent popular songs, determining ubiquitous emotions as well as common patterns in song structure.
But the output was raw data – so the next challenge was how to illuminate that data in a way that would be understandable, meaningful and inspirational for Alex.
"Inspiration is everything to me," Alex says. "To create this new source of inspiration...[it's] what I live for."
So the team at IBM – including Janani Mukundan (IBM Research, Watson BEAT) – sat down with Alex to figure out how he sees and understands information and emotion. He told them he sees music in color.
"[The data points] had a color pattern or tonality to [them]," Mukundan says. The result was a massive data visualization – a room with screens displaying the analyzed data in colors, patterns, words and textures, just for Alex.
"It was very surreal to me," Alex recalls. "It was very visually stunning and big."
The depictions echoed what he often sees inside his mind – in a different form, but similar to his internal, visual interpretation of emotion and culture.
When it comes to how to illuminate or showcase Watson's findings, "it's really up to the designer or the artist," Jeremy Hodge (IBM Watson) says. "We chose this visualization...to make it very personal and in this huge area with all the colors going on around him."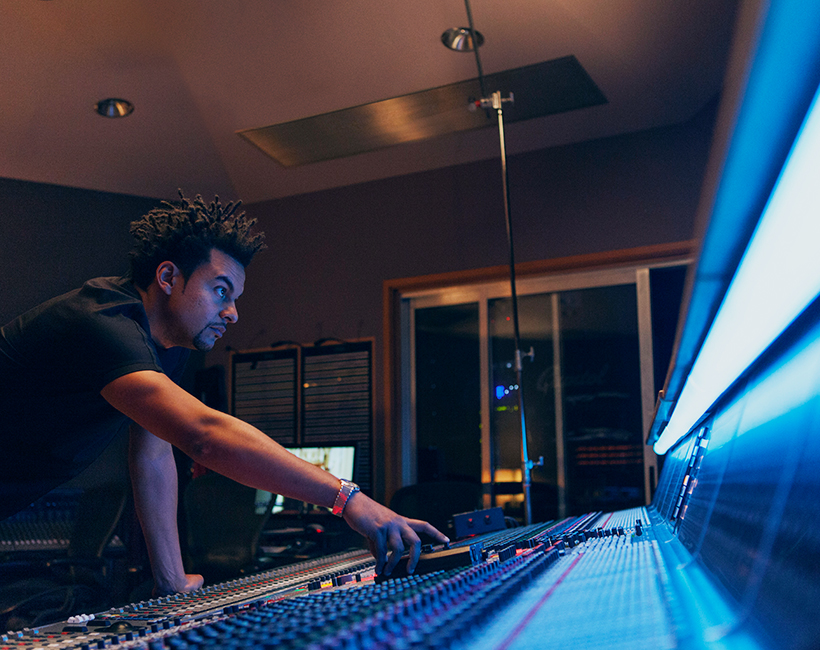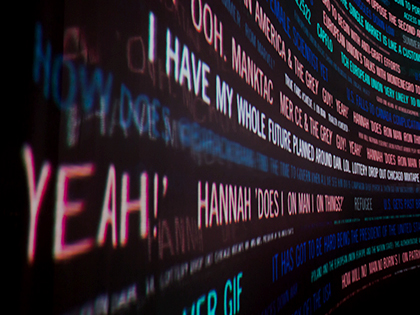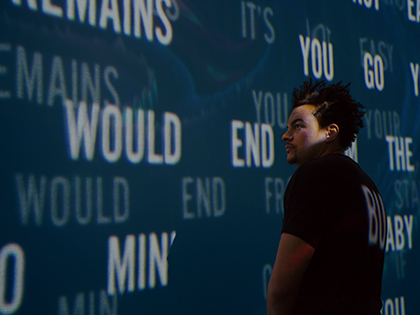 Left:

Top

Top:

"I have no fear of technology," Alex says. "I really love it on every level."

Top Right:

Bottom Left:

Middle:

Watson analyzed five years' worth of cultural data and identified themes and trends, and people's emotions surrounding them.

Bottom Right:

Bottom Right:

Bottom:

"The data from Watson showed me all these heavy emotions millions of people felt around the world, and I started thinking about heartbreak and how it's so universal," says Alex.
If a person was more of an analyst, for instance, "You could show the headline and let him click on that, or you could make it much more of a linear way to explore it," he continues. "There are really no limitations on how you explore the data. Watson can get you all the results, and that's a matter of how you render [them] on the back end."
The data inspired Alex to explore the different emotional layers identified. He decided to write about heartbreak in an effort to create a song that people could relate to.
Says Alex, "The data from Watson showed me all these heavy emotions millions of people felt around the world, and I started thinking about heartbreak and how it's so universal. And how everyone goes through it on some level and how it's a uniting thing. I haven't really written that many songs about [heartbreak], but I felt like this was a good opportunity to tackle it but then change your perception about what it is. I wanted people to definitely take their own experience, especially with heartbreak, because everyone has been through it on some level. I want people to hear the song and make it their own."
While the song's lyrics at first listen may implicate romance, Alex wanted to ensure he cast a wider net of heartbreak as a whole. He also wanted to showcase the complexities of the theme: The title, "Not Easy," puts the listener in a gray area even before the first note.
"I tried to make the music...contradict the message," he says. "I feel like that kind of replicates what the human experience is like. Even though you're going through this heartbreak, it's not just black or white. It's gray. It's the whole journey that's a part of that, where you start in one place and you end in another place and there's a whole up-and-down thing going on. So I try to make songs like that. This song represented that....You want people to have their own meaning for things, so you have to make it...dynamic."
After deciding on heartbreak as a theme, Alex began the process of co-writing the song with X Ambassadors. From there, they added Elle King and Wiz Khalifa, ensuring that real human experience contributed directly to the song in addition to Watson's findings. The three artists and their distinct backgrounds and musical styles extended the reach of the song to fans of varied genres and with differing emotional backdrops.
Watson also contributed to Alex's music-making process after the initial inspiration period. IBM gave him a prototype of Watson BEAT, the brand's cognitive system that recognizes and interprets music theory and emotion.
"It understands and deconstructs music and then allows artists to change it based on the moods that they want to express," says Richard Daskas (IBM Research).
"[Alex] would listen to [a piece of music] on the keyboard or have one of his musicians play on a keyboard or play it on a drum," Mukundan recalls. "Watson will listen to this and scan it. He can also tell Watson, 'Give me something that sounds romantic, or give me something that sounds like something I want to dance to.' And since Watson understands these emotional ranges and can understand music as well, he will then use his original piece as an inspiration and also add on top of it the layer of emotion that he wants."
Four
Watson and the Future
The "Not Easy" collaboration is just one example of the ways in which people are leveraging Watson's unparalleled ability to provide inspiration. From water conservation and medicine to cooking and music, Watson can arm professionals with informed insights and new ways of looking at their industries, crafts – and the world at large.
"The future of the music industry is definitely in flux," says Alex. "It's an amazing time. All the rules are changing, all the gatekeepers are changing. Everything is changing. I think when that happens, the art gets better."
Look out for more from Alex Da Kid and Watson in the coming months.